Accommodation
The accommodation is provided in the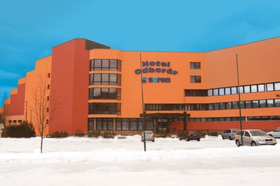 SOREA TITRIS Odborár Hotel
059 60 Tatranská Lomnica
tel: +421/52/44 673 51-3
fax: +421/52/44 675 81
e-mail: titris@sorea.sk
GPS: latitude N 49.1675 longitude E 20.2883
Localize hotel
Hotel Gallery and Congress Hall View 1, Congress Hall View 2
Alternatively Hotel SOREA Uran will also be available if there are not enough rooms or if more sigle rooms are requested than available. It is localized about 1 km from the conference venue.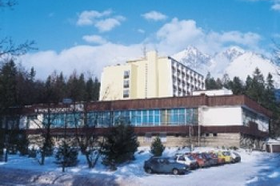 059 60 Tatranská Lomnica
tel: +421/52/44 678 41
fax: +421/52/44 677 11
e-mail: titris@sorea.sk
Localize hotel
Transportation
Closest airports are:
There is a shuttle bus to Bratislava from Vienna airport (see timetable).
By train:
Trains to Poprad-Tatry go from Bratislava (timetable) and Košice (timetable) every 2 hours. There is a possibility to travel from and to Prague. To find the best way to get to Poprad-Tatry or directly to Tatranská Lomnica from your original place search on www.zsr.sk. For planning your trip back home you can use timetable to Bratislava or to Košice.
By car:
Drive to Poprad on E50, turn to 534 towards Starý Smokovec, turn right to 537 which will lead you to Tatranská Lomnica. Pass a bus/train station on your left and continue towards Tatranske Matliare. Near the end of Tatranska Lomnica turn right towards the hotel.
From Poland drive through Zdiar and Tatranska Kotlina. Turn right towards Kezmarske zlaby and Tatranska Lomnica. At the start of Tatranska Lomnica turn left to the hotel.
GPS coordinates of the hotel: N 49.1675, E 20.2883